---
For the first few days during my stay here in Delhi, I roamed the streets of Old Delhi so yesterday I decided to go to New Delhi for a change of scenery. Where Old Delhi is full of narrow little streets, chaotic, organic, messy and wild, New Delhi is quite the opposite. It is very spacious (not something you see very often in India!), it is clean, organised, fairly quiet, considering this is India, and somehow tamed.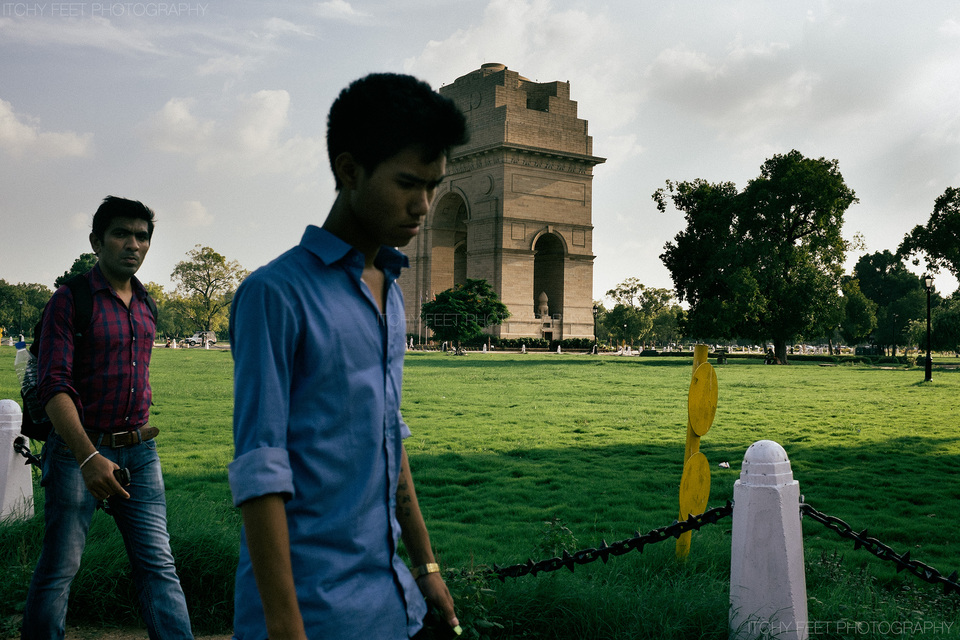 I feel different here. Where life seems more free in Old Delhi, it seems like the world is full of borders in New Delhi. You smell that this is where the money is, where the power of the city is. The streets are full of the ambassadors (an Indian car used by government officials), business men and expensive shopping opportunities.
I walk the wide open boulevards and pass expensive houses, with giant walls and armed guards. I go to the Khan Market and see the rich people shopping. For the first time during my stay here I see a lot of western people as well. I feel restricted and not at ease here. I don't feel the freedom I feel in Old Delhi. I don't want to be judgemental, but it seems that once people get money and power, their behaviour changes. It feels more cold here somehow, constrained. There are rules. I look for an escape and head to the parking lot where the workers hang out. Ahh a fresh breath of air, here the chaos of India and the feeling of an organic approach to life (a nice way of saying chaotic) returns. I have myself a cup of masala chai and stand and watch from afar.
The rich people arrive and hand over their keys to the staff on the parking lot, who somehow manages to keep hundreds of cars parked on a tiny area the size of a stamp. This is the India I know, where everything is possible. At the same time I cannot help but feel a bit sad about what I hear in the loudspeakers – a prerecorded voice urging the clients of the market to exercise "extreme caution". The cold female voice in the loudspeakers proclaim: "Please take the ID of the person parking your car, exercise precautions and do make sure that this and that.. do not encourage beggars, do not do this…". I find a parked Lamborghini, the first time I have seen such an luxurious car in India, but once I try to photograph it the armed security guards look at me with great suspicion.
Even when I go to India gate (a national monument), searching for people smiling and enjoying life, there is only a few people here. And once people start arriving, and I am ready with my camera to document, we are ordered to leave the site for some unknown reason by armed guards. Not sure what is going on today – I guess the monument is closed for whatever reason. I had a lot of feelings of being closed off today in New Delhi.
In a moment of self reflection I realize that one of the things that bothers me in this place, is that I do not know how to take pictures here. I do not know how to tell the story of the rich. And I realize I am every bit as selfish as the people in the Khan Market. I am here to take something as well. Photographs. Without paying a dime for it. Ashamed of my own selfishness, I escape back to the area where I am staying, and visit the kind momo lady. She always gives me one extra momo for free and she always serve it with a smile. She was there in the morning when I took the metro to New Delhi, and she is there faithfully waiting when I return in the evening. Hardworking and taking pride in what she does. I think we could all learn something from the kind momo lady.