---
I arrive late in the afternoon at Rameswaram, just around sunset time. I head to the shore which faces the east, meaning there is not any sunset to be viewed here. This is definitely a sunrise kind of place. I notice a religious structure, and remember hearing somewhere that Rameswaram is considered the Varanasi of the south. I make a decision to get up early the next morning to check this out.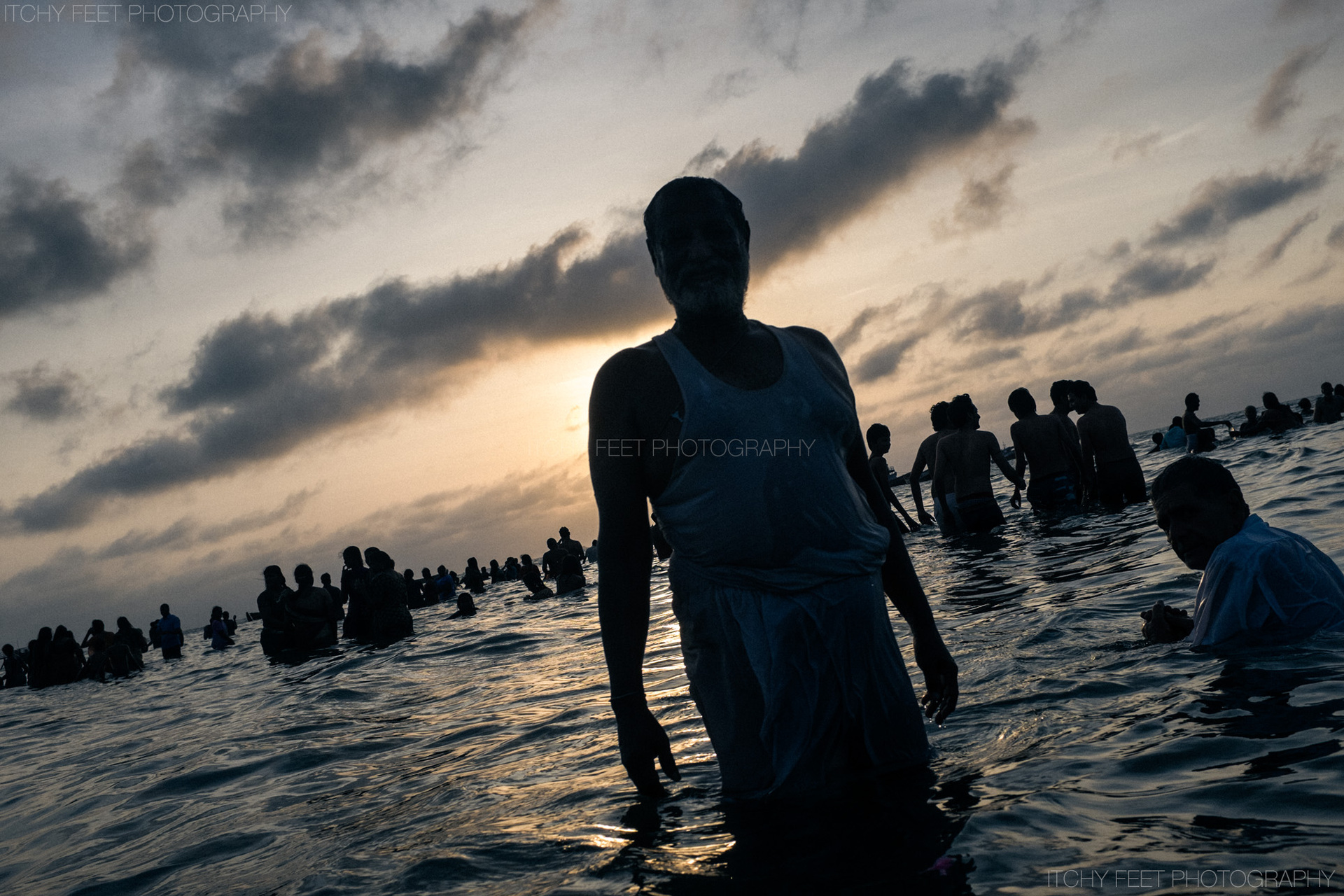 Sunrise
Man enjoying his holy morning ritual during the early morning hours.
Sunrise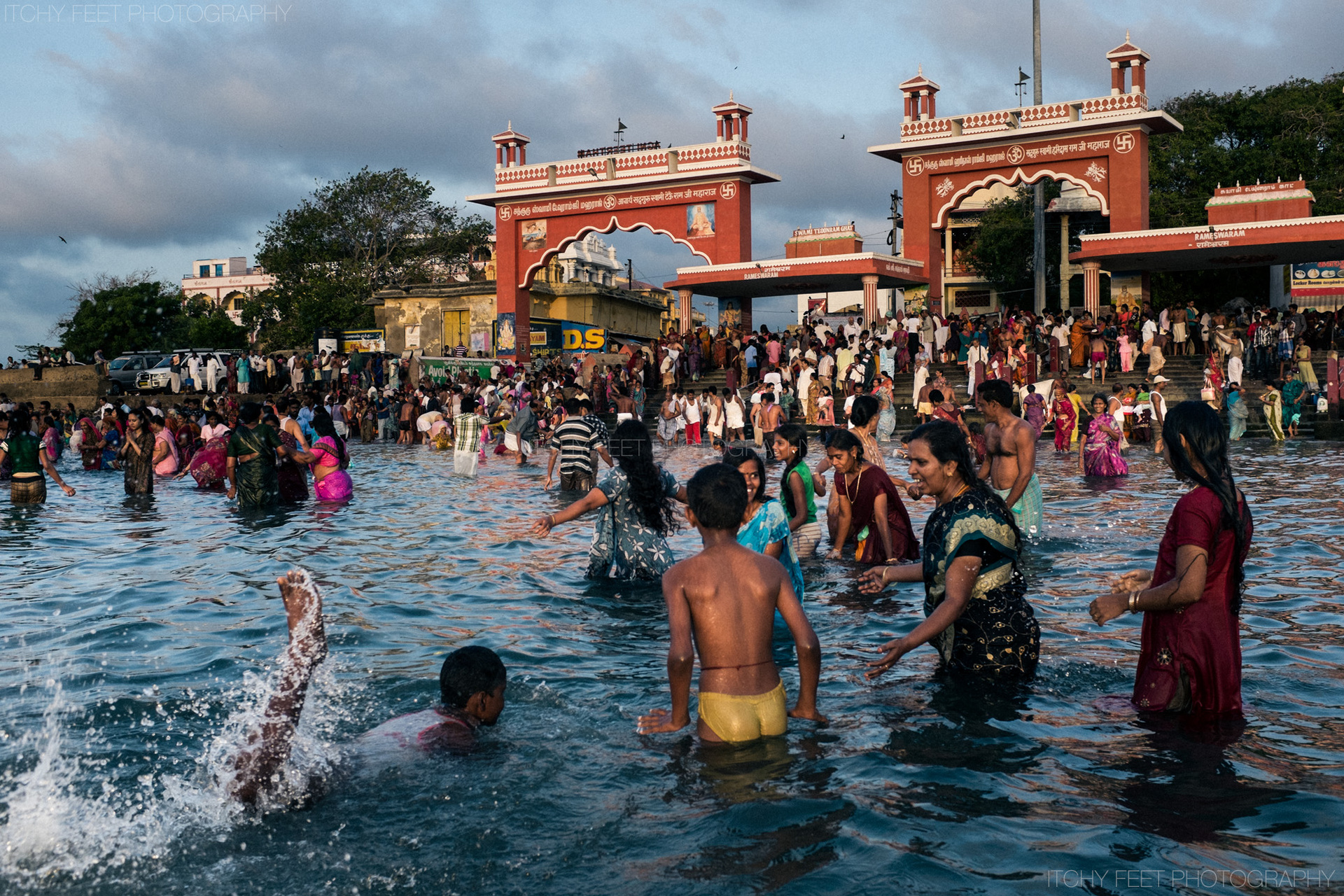 Family Fun
Family enjoying their holy morning dip.
Family Fun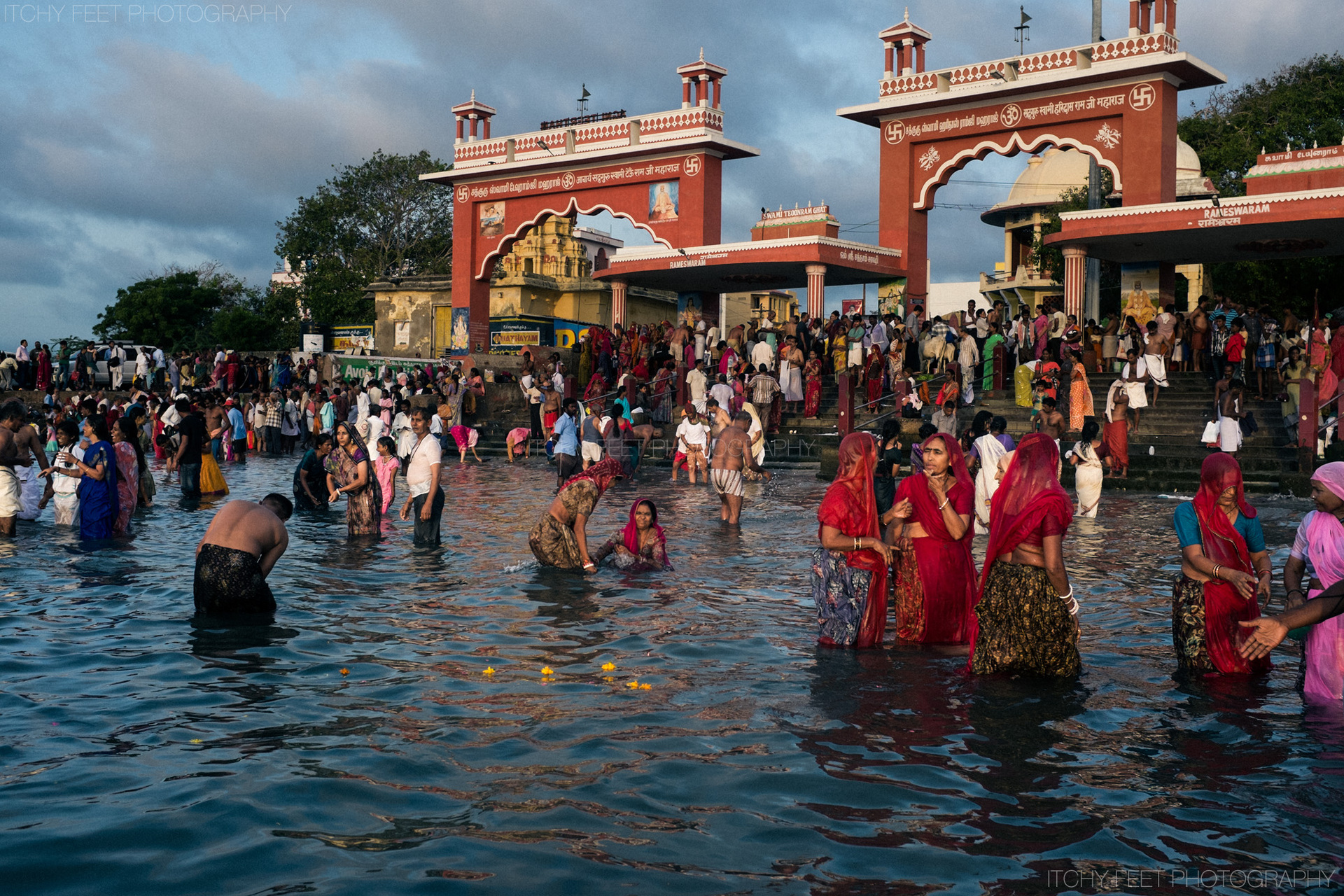 Ladies in Red
Women dressed in red traditional Indian clothes during their morning ceremoni.
Ladies in Red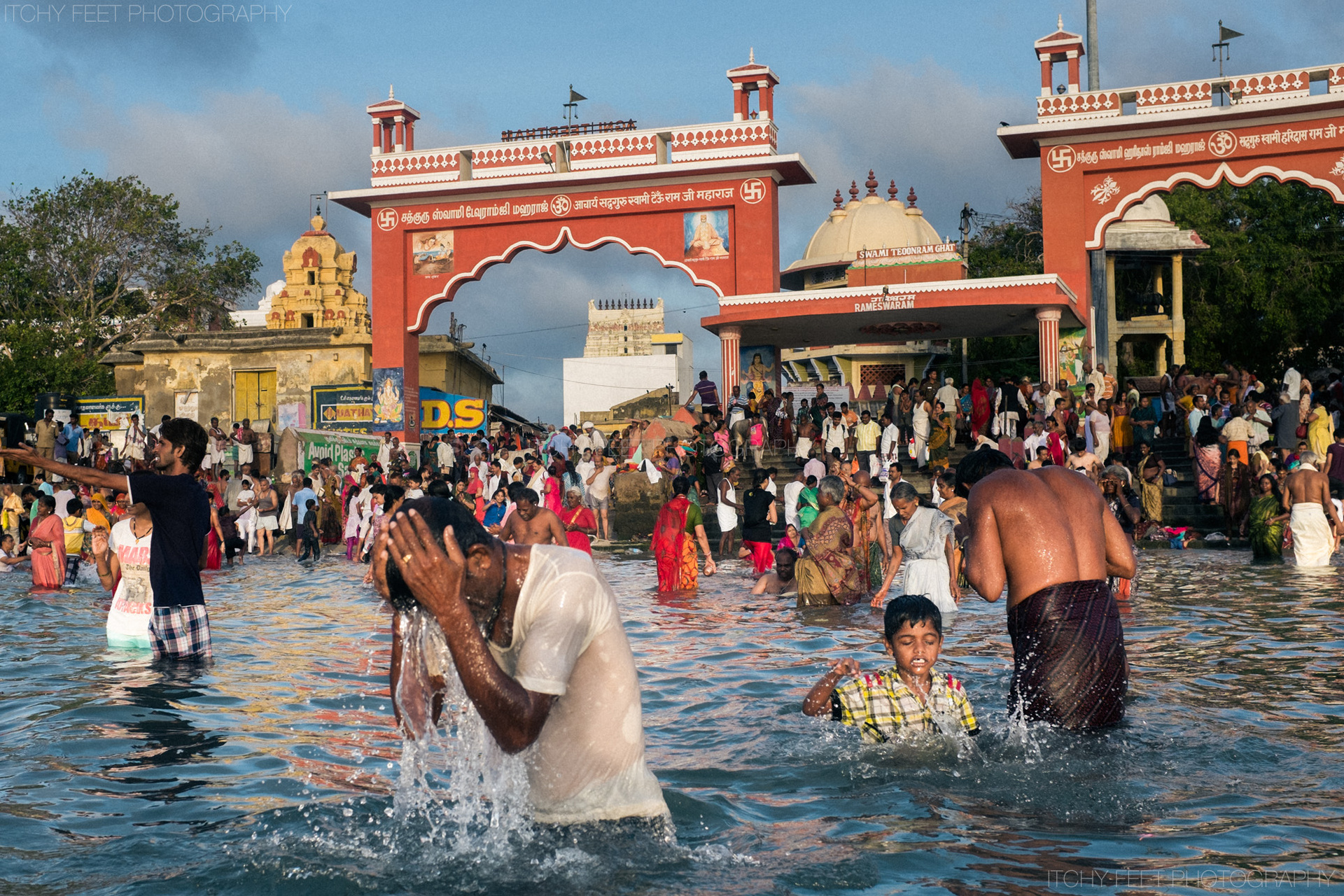 Morning Rituals
People doing their holy morning rituals, bathing and praying.
Morning Rituals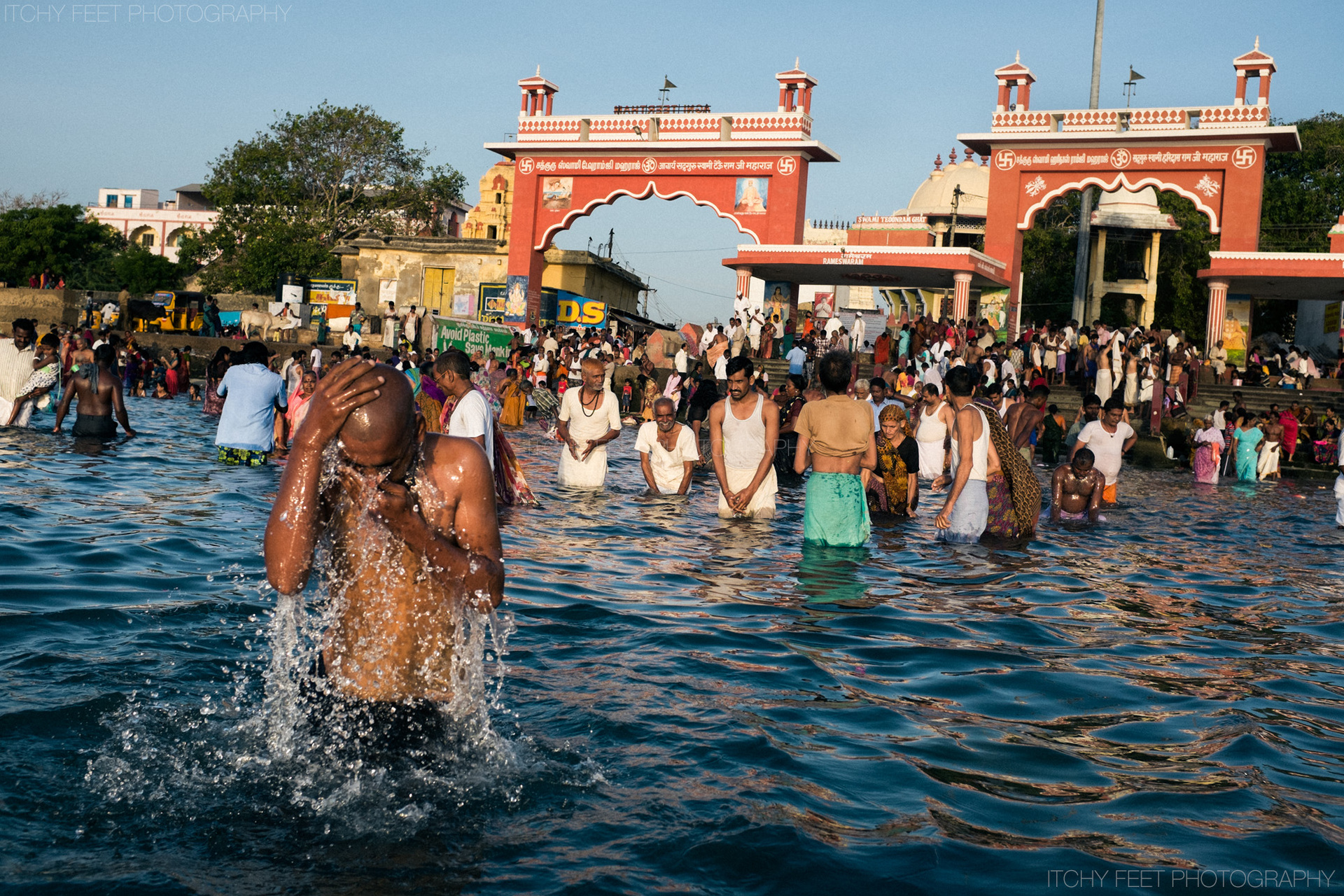 Refreshed
Man enjoying his refreshing holy morning shower.
Refreshed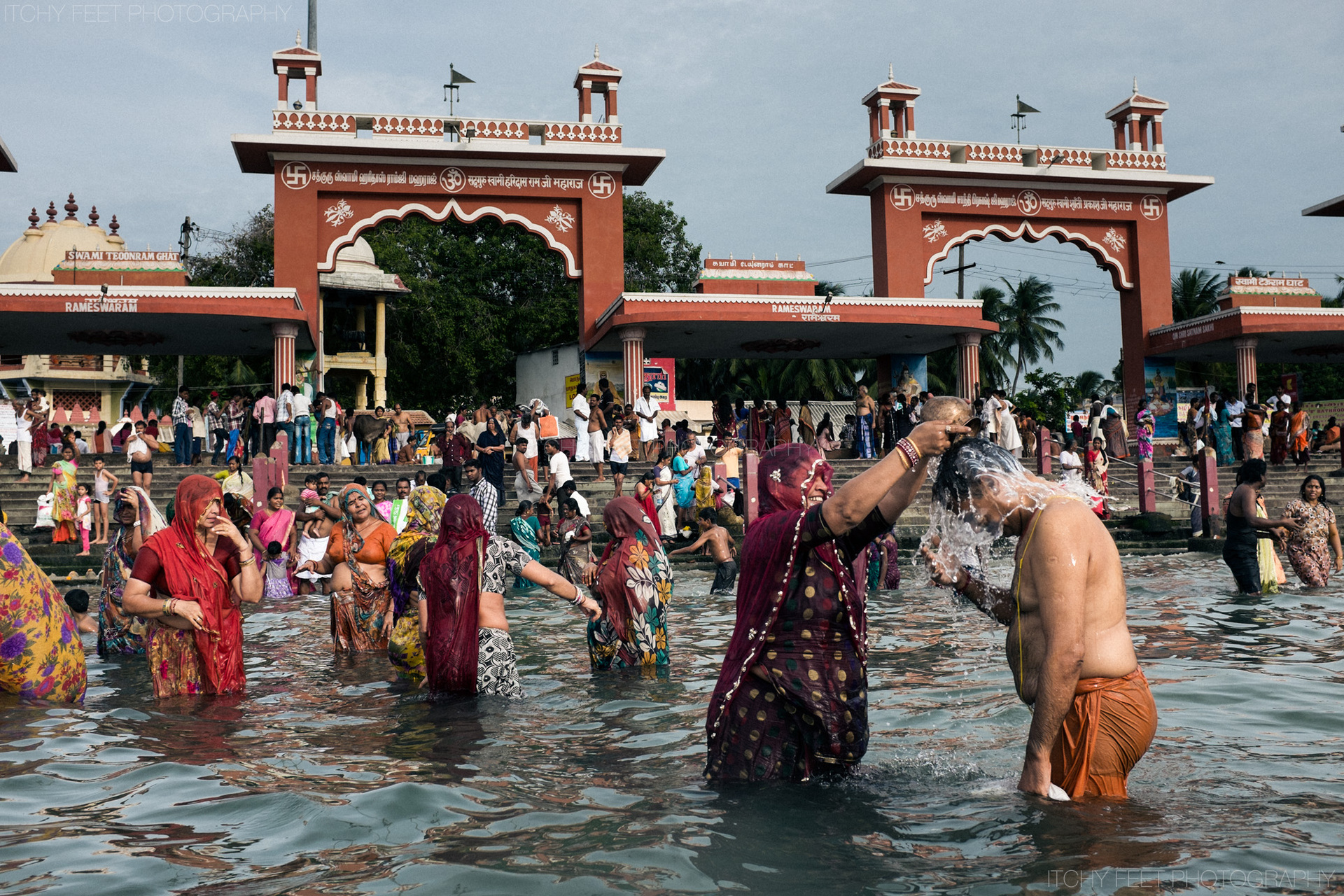 The Holy Dip
Wife pouring water on her husband.
The Holy Dip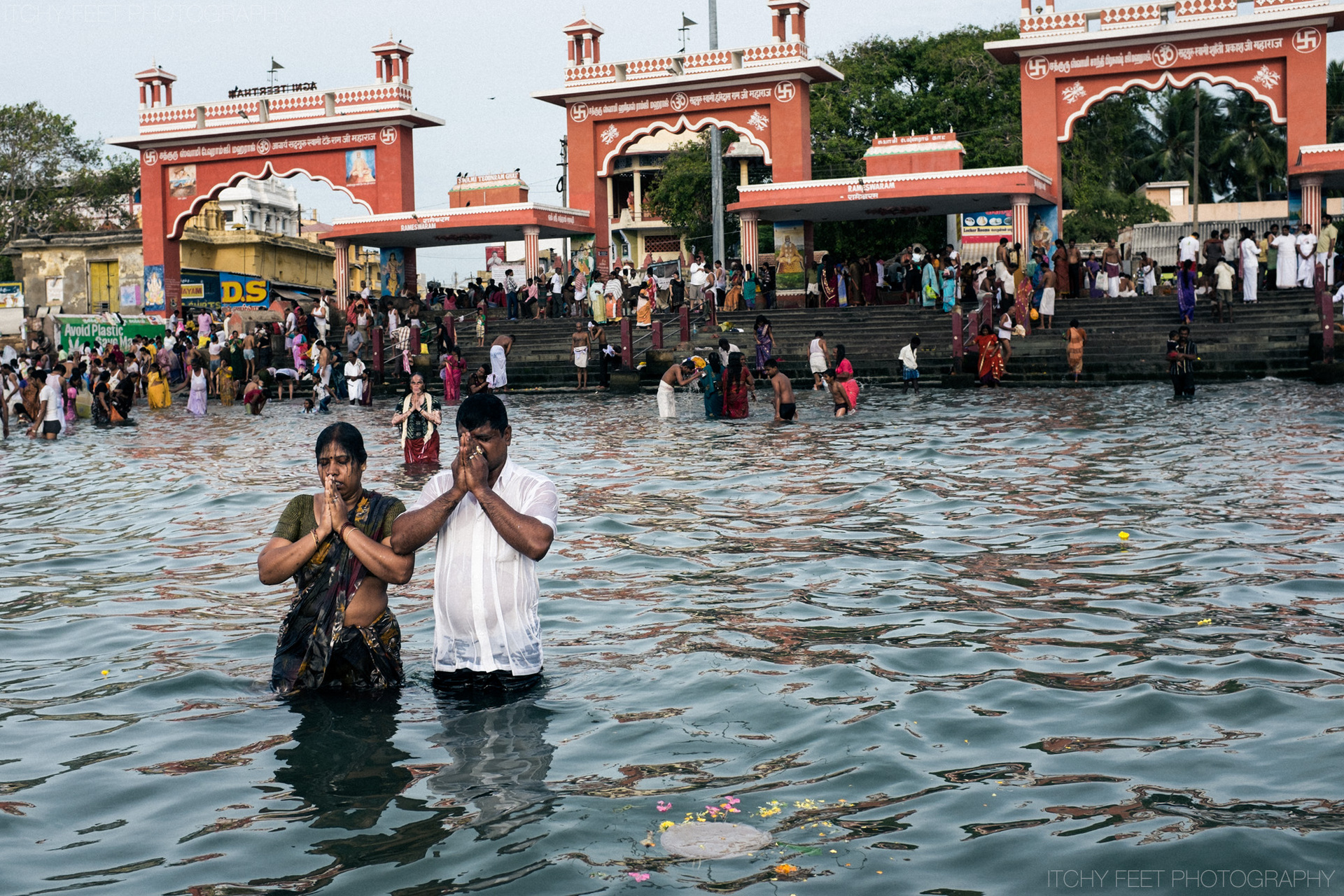 Puja
Husband and wife enjoying their morning prayers (puja).
Puja
A Touch of Holy Water
Woman bathing herself.
A Touch of Holy Water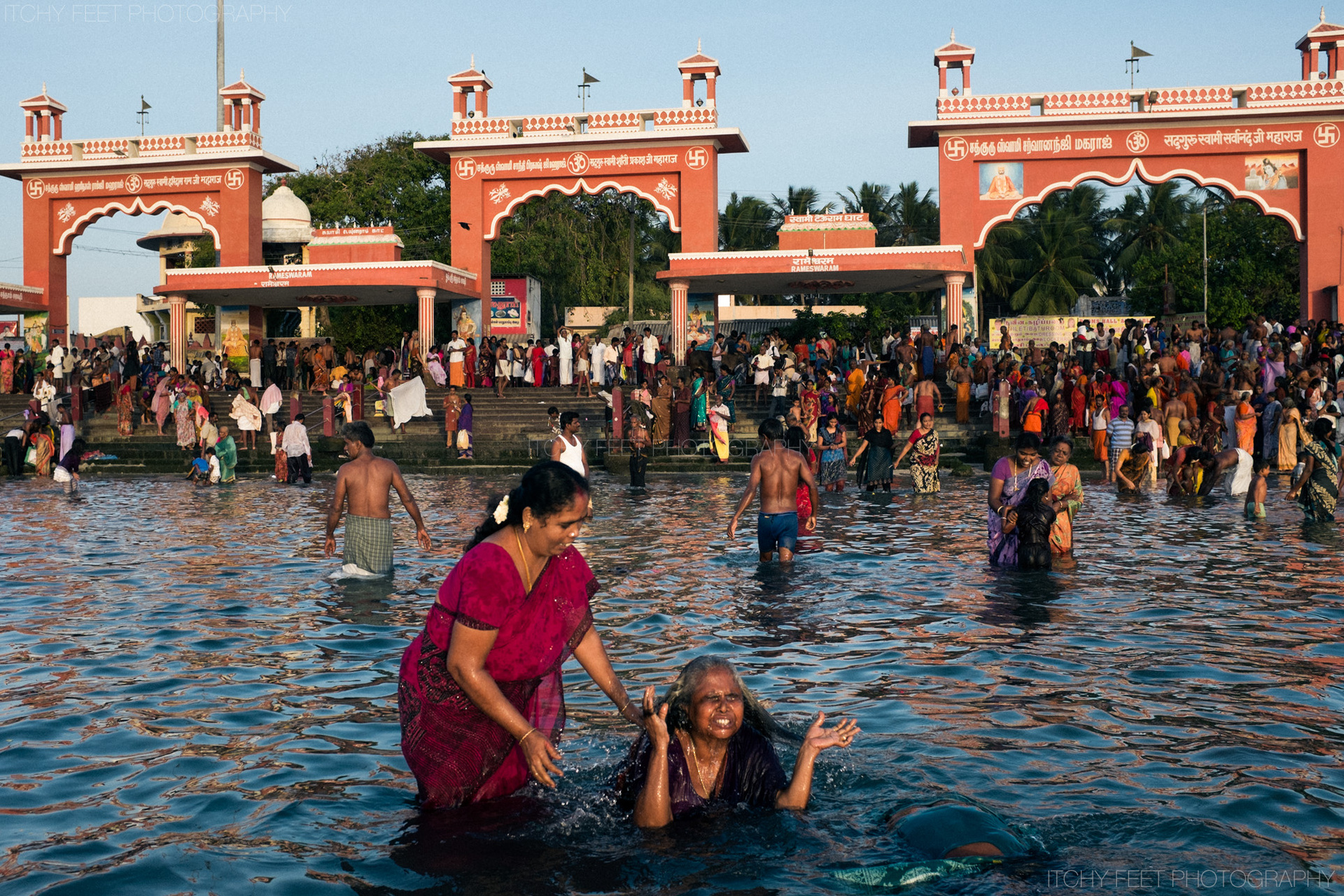 A Morning Smile
Two friends smiling and enjoying their holy dip.
A Morning Smile
Play
Sisters playing in the water.
Play
Play
Sisters playing in the water.
Play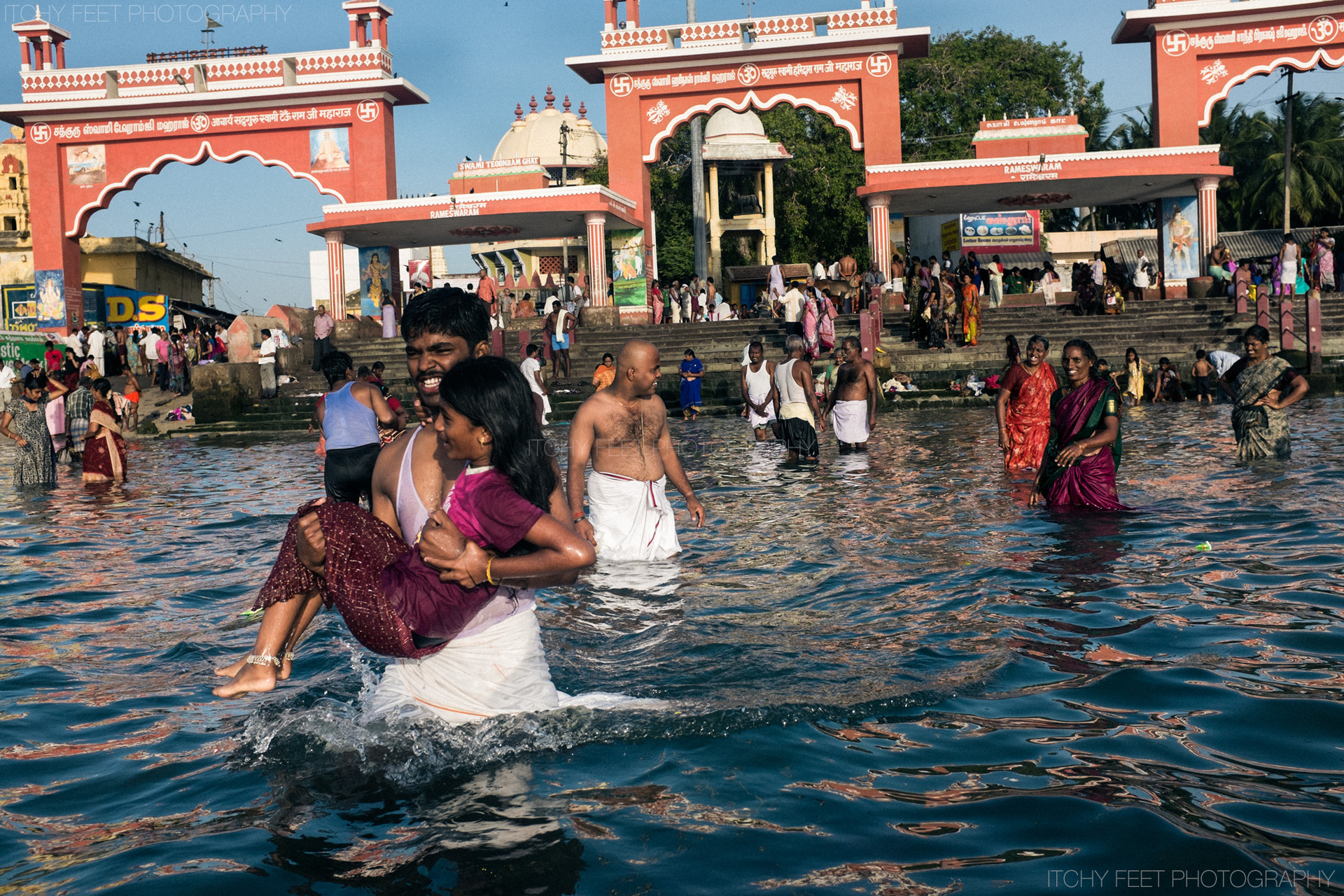 Family Play
Daugther resisting while father drops his child into the water.
Family Play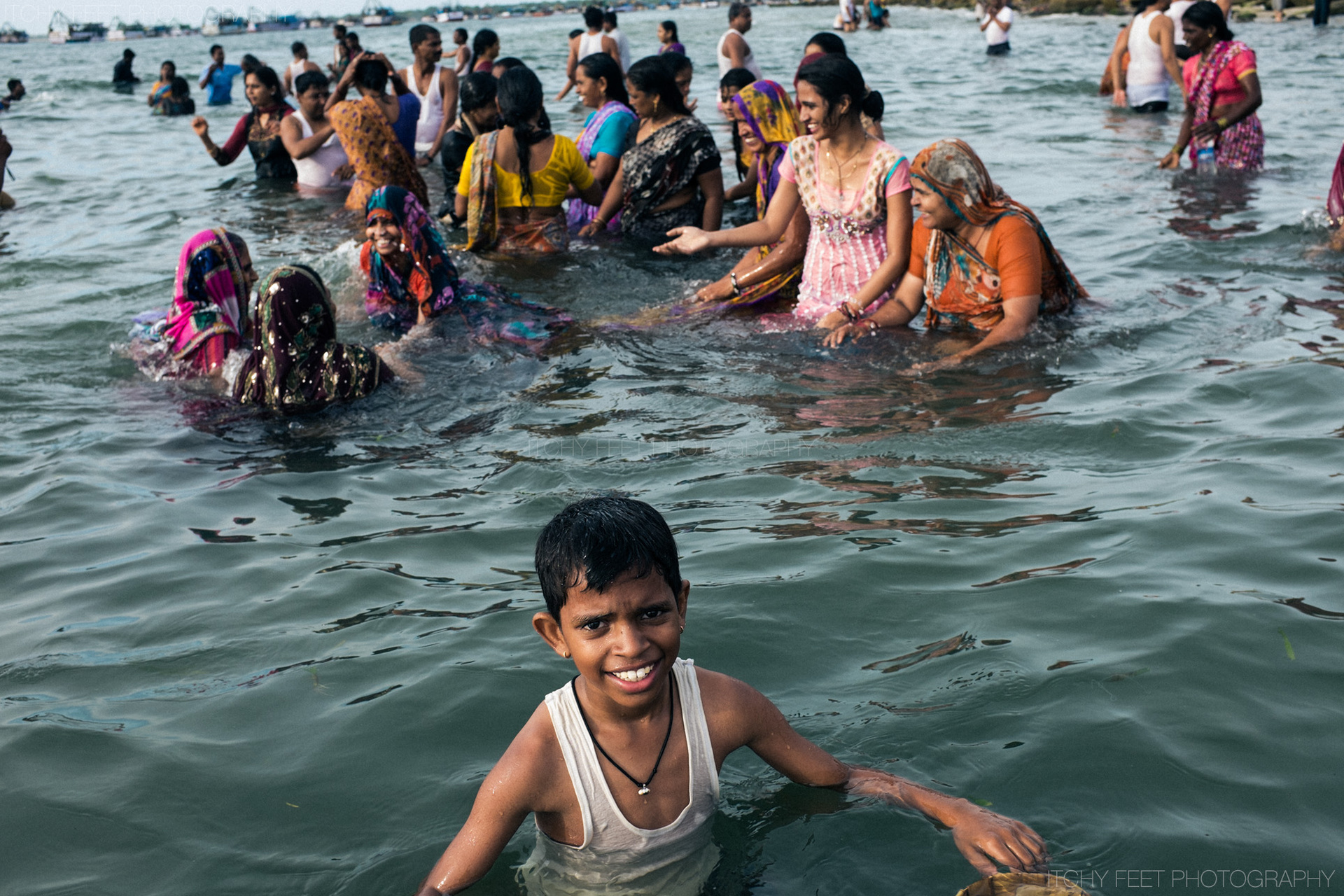 Family Time
Boy posing for the camera in front of his family.
Family Time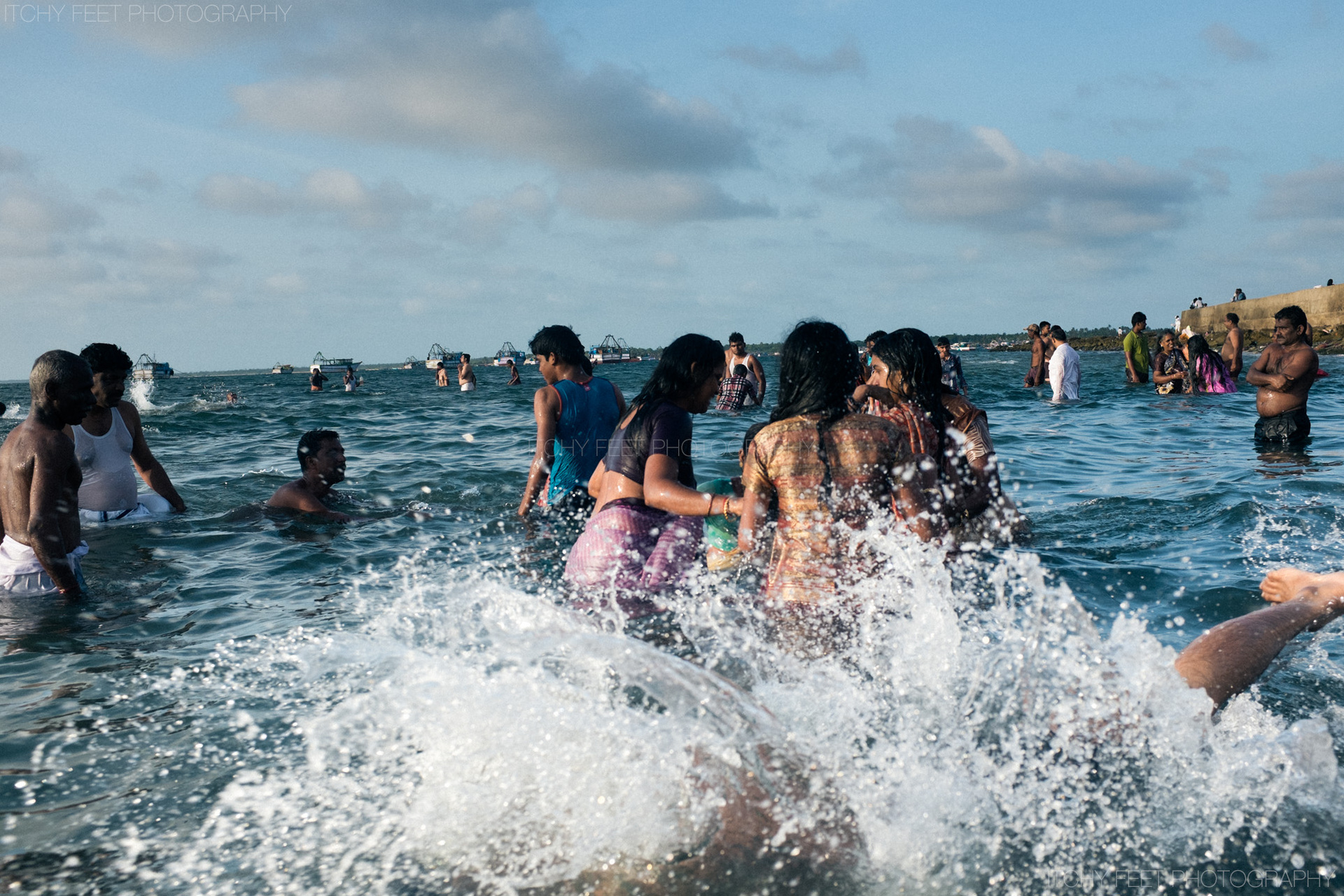 Splash
A man having fun jumping into the water.
Splash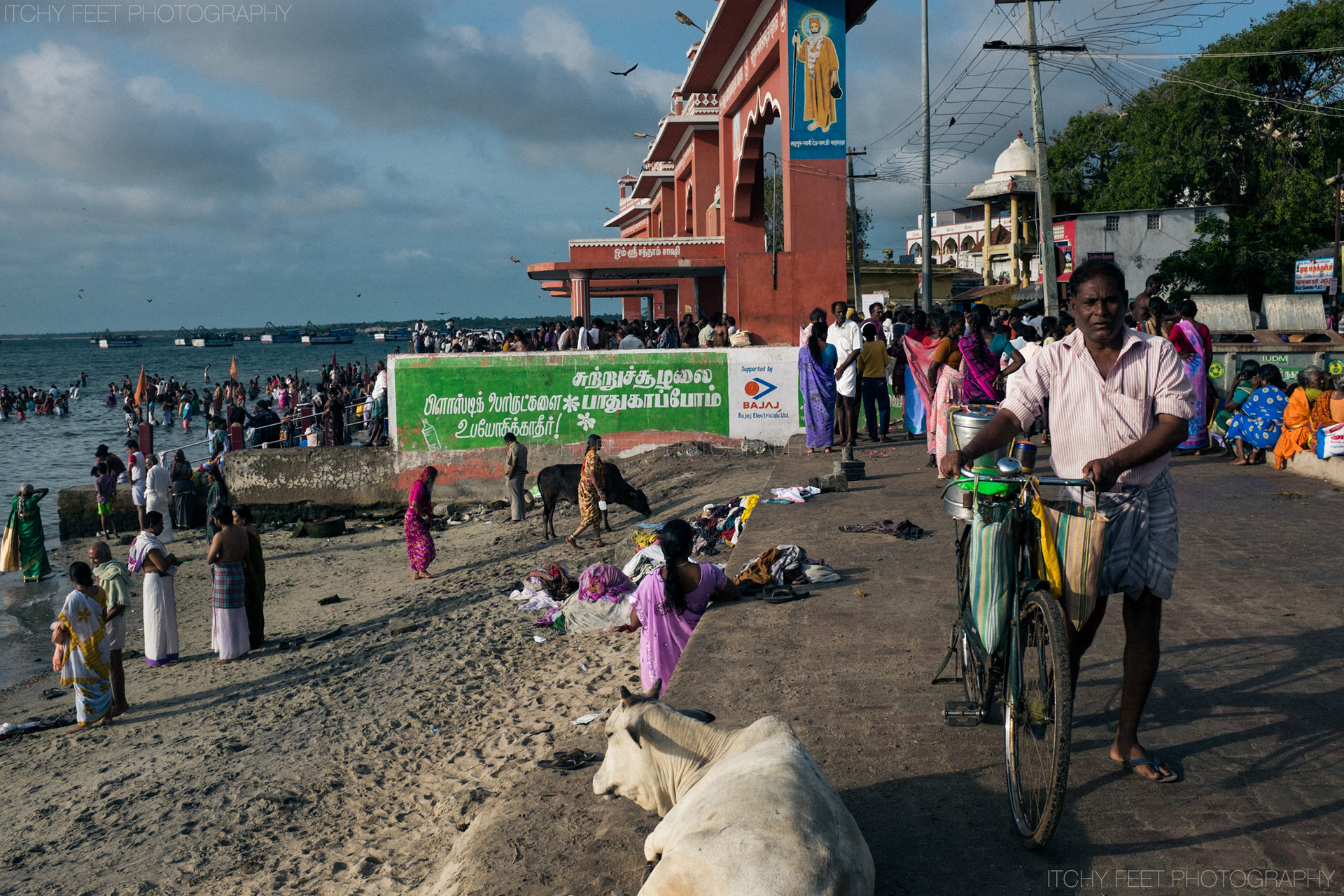 Morning Scene
Typical scene at the Rameshwaram shore, Chai wallah looking for customers, cows hanging around, people enjoying the view.
Morning Scene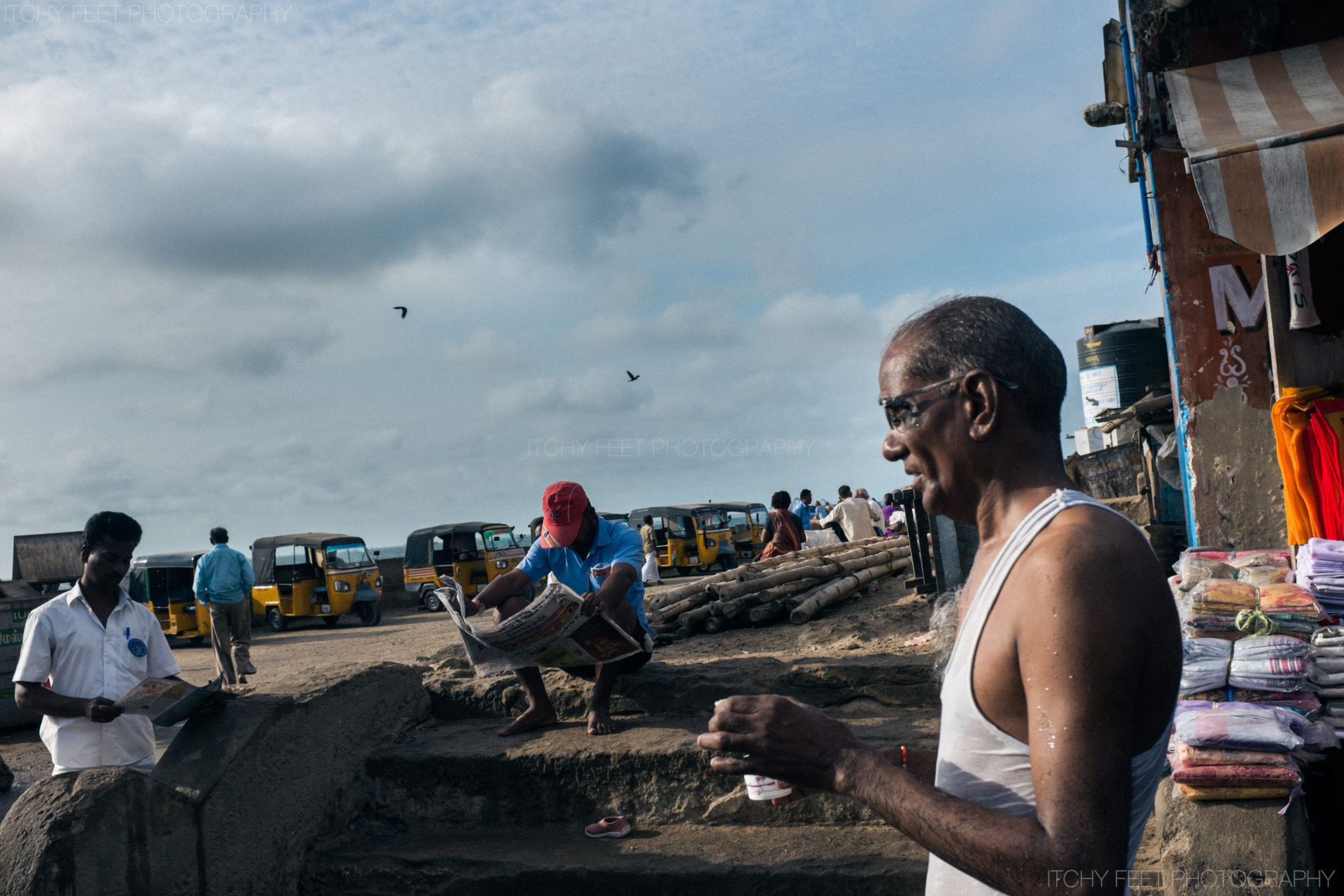 Chai Time
People enjoying their newspapers and chai.
Chai Time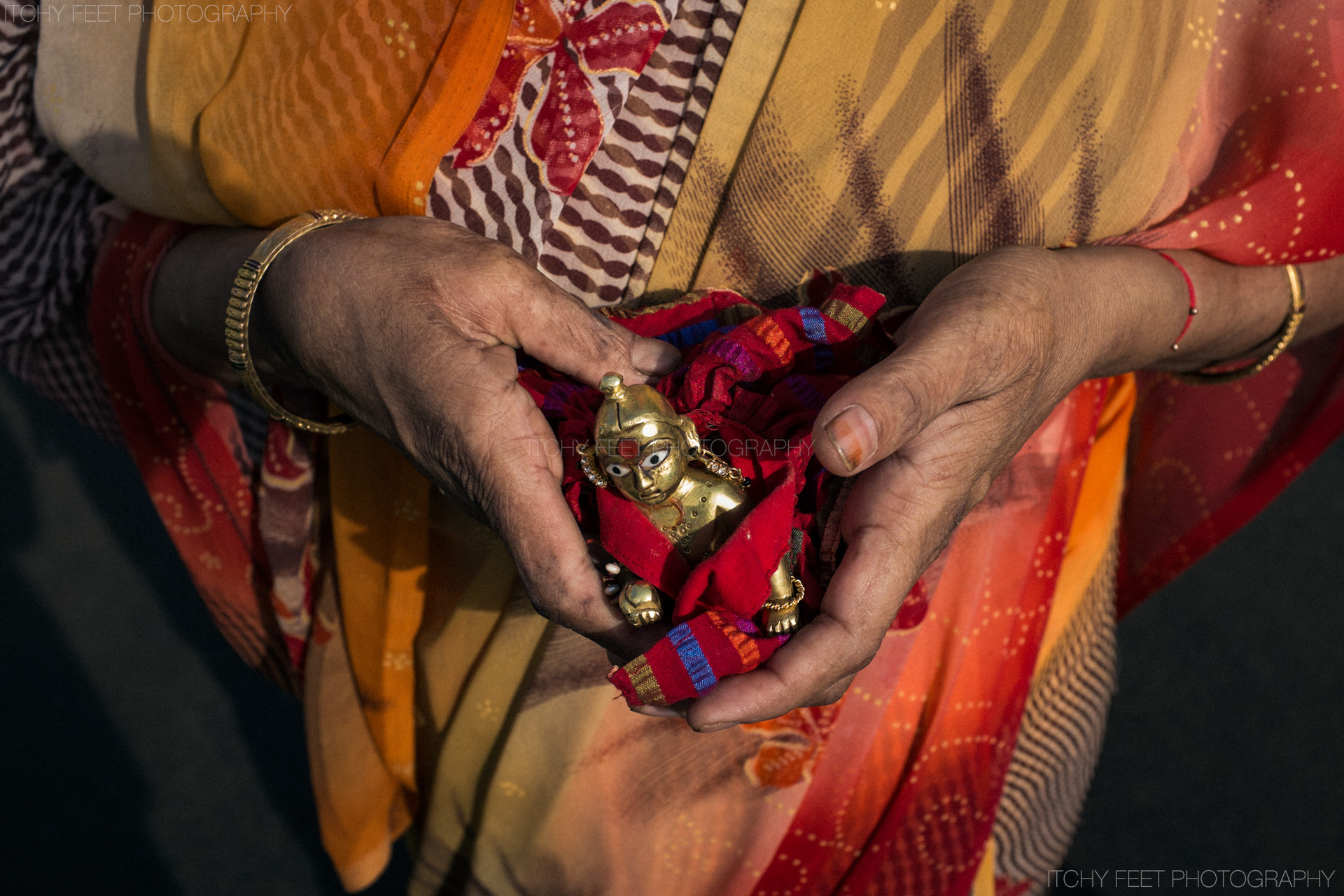 Hindu God
Womam showing figure of hindu god.
Hindu God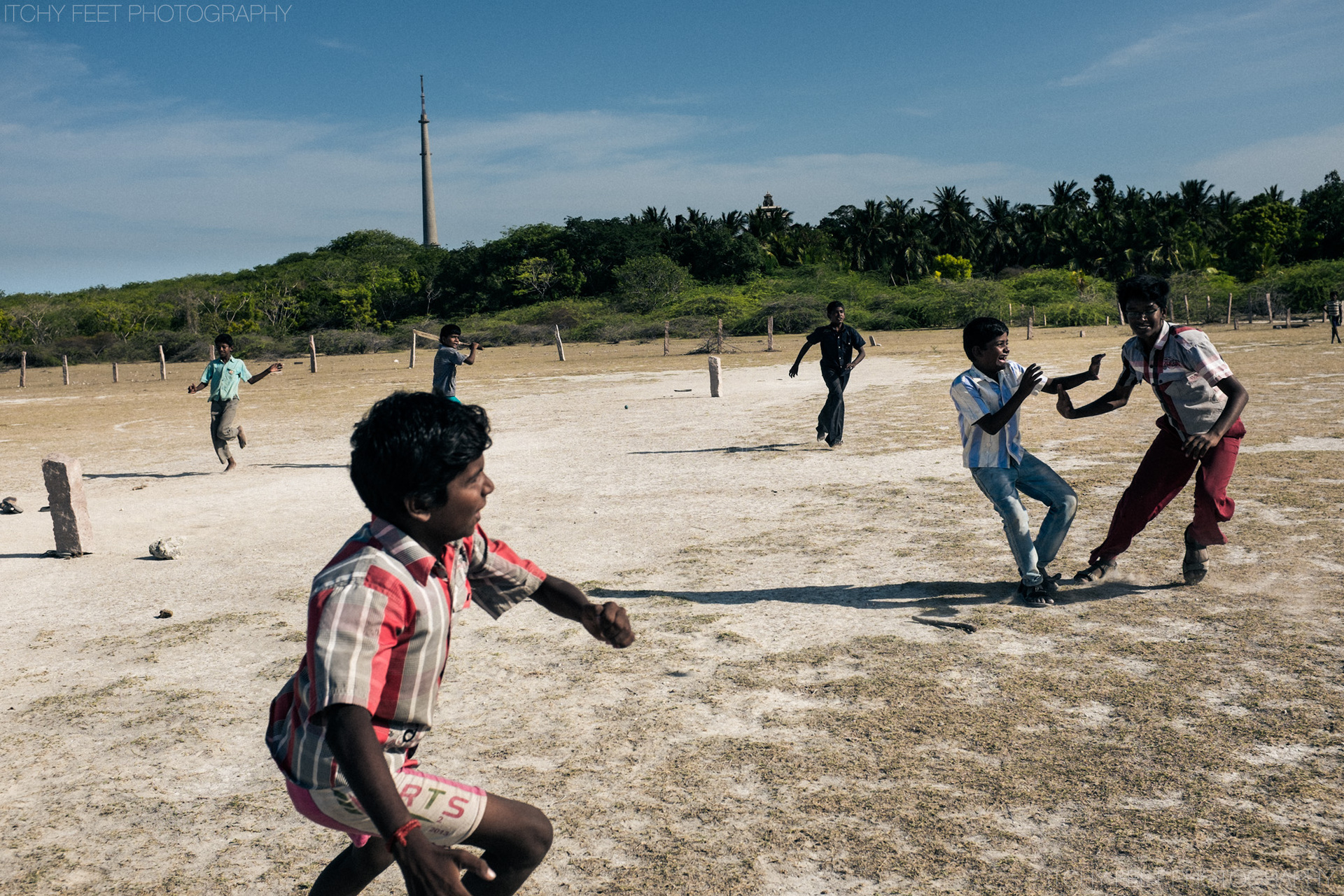 Cricket
Children playing cricket. Rameshwaram tv tower can be seen in the background.
Cricket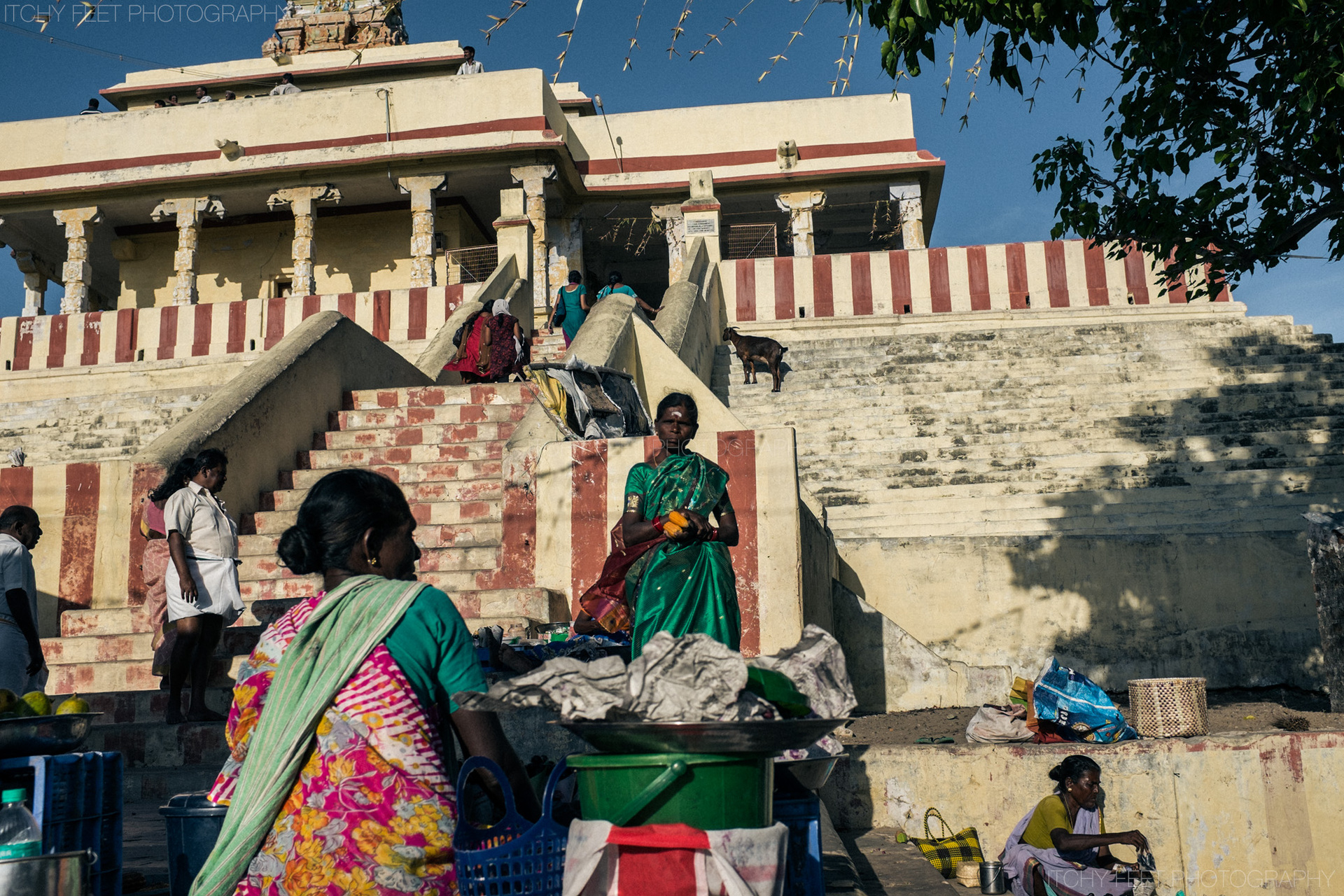 Ramar Paadam Temple
Women selling food in front of Ramar Paadam temple.
Ramar Paadam Temple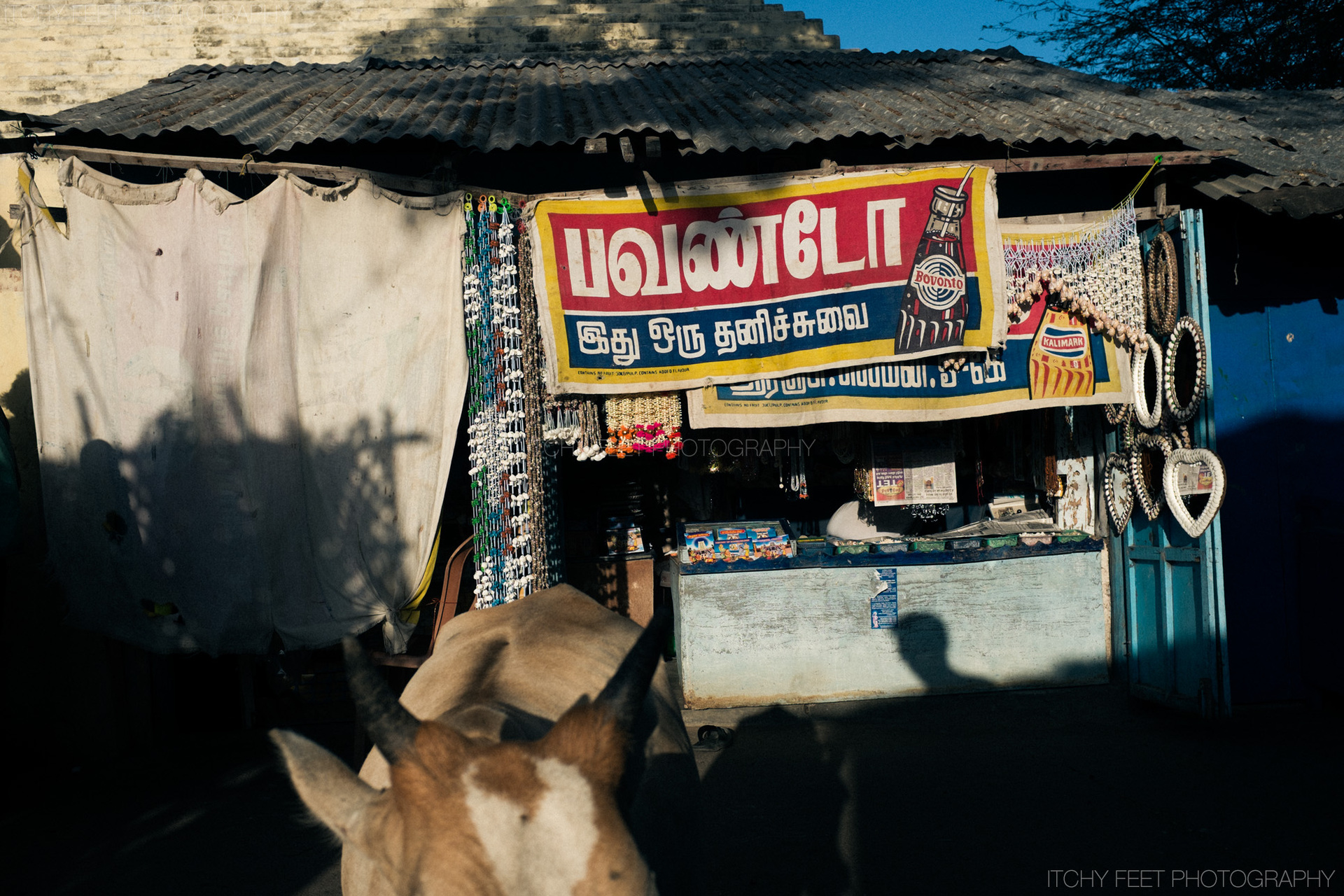 Portrait of a Cow
A tender moment of sunset light touching a cow.
Portrait of a Cow
Chai at the Edge of the World
Chai stall next to a demolished building.
Chai at the Edge of the World
I get up around 5.30am – I do not want to miss this sunrise! And I have a feeling that the best pictures will be have to be taken inside the water. So I make the logistic preparations, by leaving my stuff at home, putting a bit of money in a plastic sleeve and I head off. The moment I reach the shore I feel that things are happening here. Already the water is full of people. I stand and watch a little. Feeling shy. This is a holy moment for these people. Is it OK to go into the water?
The photographer inside me takes over, and I leave my shoes on the shore and go into the water. I am well received by the people – mostly they are amused to see this white boy with his tiny little camera. The light is amazing. But moody as always. After a few minutes in the water, I simply fall in love with this place, and I know that this is the place where I will take the majority of my photographs in Rameswaram.
I spend three days in Rameswaram, and every morning I go to the shore to photograph people during their holy dips. I have a lot of interesting conversations with people, and I feel very relaxed. It is great to see people who have travelled from all over the region to enjoy this special place. I have a little incident with a man that thinks that I should definitely be showered in this holy water. I say no thank you, but he insists and starts pouring water on me. I have to run away to escape his misguided hospitality. My body do not mind the holy water, but my very electronic Fuji x100s camera for sure is not a friend of the water!! The camera spends a good few hours in a bag of rice soaking out the holy moisture. Luckily it survives this incident.
Rameswaram has a lot of temples and religious things to offer, but I do not spend much time with this. I keep being drawn to the water. This is where I want to make my photographs. A special experience with amazing light.